Please read through the questions below for further details on our burial ground and procedures
Do we have to use a Funeral Director?
No, but your loved one will need to be cared for between the time of death and the funeral.
Can you recommend a Funeral Director?
Yes, we have a list of local Funeral Directors.
Is the meadow consecrated?
No. All beliefs and denominations are welcome. You may have a plot blessed by a priest or other religious representative if you wish.
How are the graves prepared?
We use a local grave digger who prepares the graves by hand.
What kind of coffin can be used?
Any kind of environmentally friendly coffin or shroud can be used. We are happy to recommend different types.
Can we hold a service elsewhere (e.g in a Church/Chapel ) and then come for the burial?
Yes, we are very flexible for you to tailor make any kind of funeral.
Can you recommend a Celebrant?
Yes, we would recommend a local celebrant who is very experienced and conducts very special ceremonies.
Can we put ornaments on a grave?
No, in order to keep the site looking as natural as possible such items will be removed.
Is it possible to reserve neighbouring plots?
Yes, if the adjoining plot is available it can be purchased at today's price.
Would we own the plot?
No, just the exclusive right of burial or interment in that individual plot of land.
When can we visit?
Anytime during daylight hours.
Who owns the meadow?
Temple Wood Natural Burial Ground is part of High Park Farm which is owned by George and Clare Atkinson. They and their families have farmed in the area for several generations.
Can we plant a tree?
There is an area designated specially for tree planting. The Trees have to be of a native species and supplied by us. Memorial plaques can be placed on the small wooden post at the base of the tree.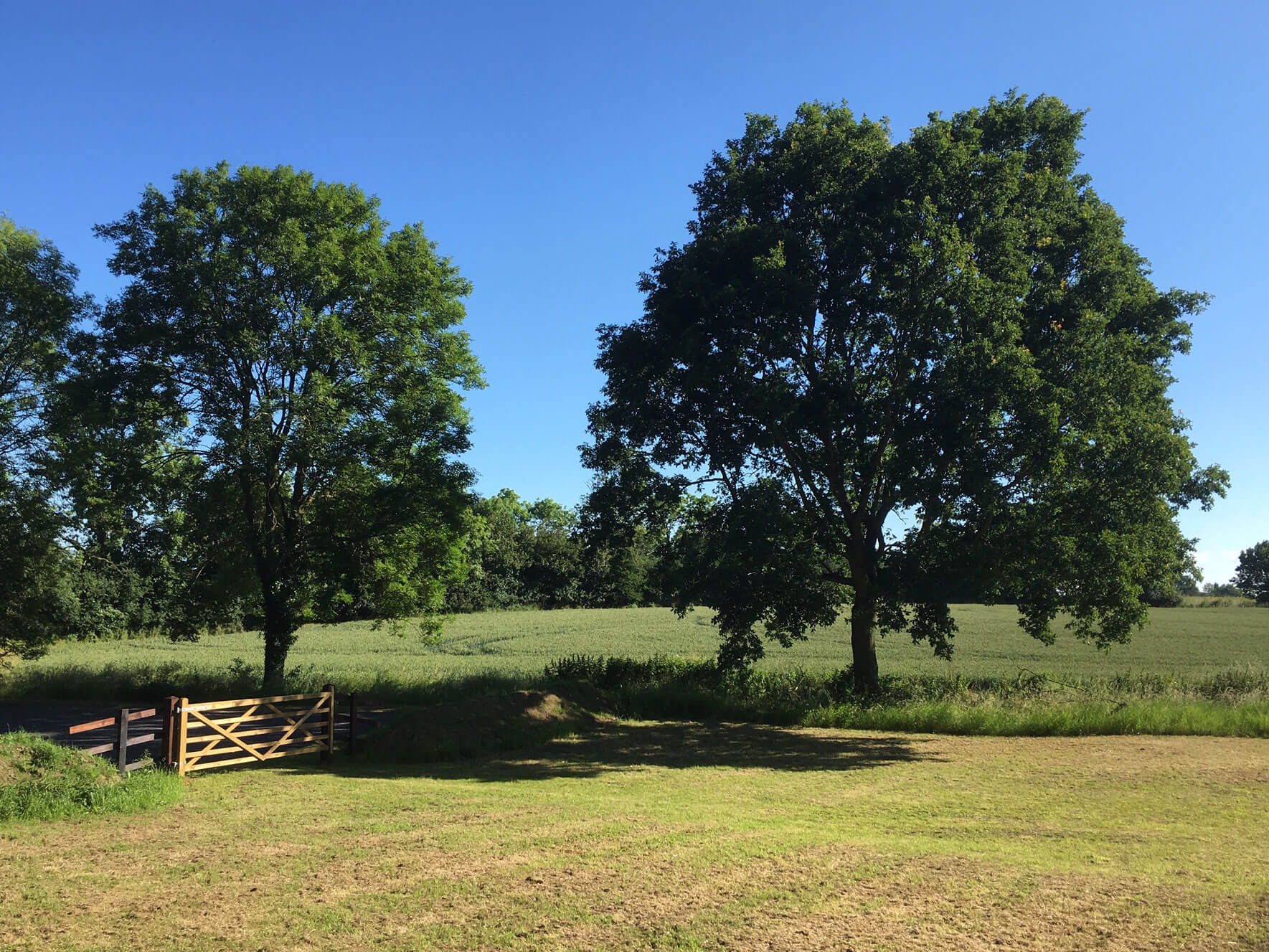 The site is a 5 acre meadow on the edge of Temple Wood. The meadowland provides a natural habitat for insects, birds, and deer/other wildlife. It provides an ideal resting place for loved ones whether it is a natural burial, interment or scattering of ashes. It is also a peaceful and serene place for family to visit and recall loving memories.
A Funeral Director can make all the usual arrangements and we will work alongside them to provide a professional and caring service.
Single plots are always available.  If you would like a "Family" Plot we cannot guarantee availability unless reserved in advance.
A price structure is in place related to the requirements of the individual burial. We can offer a Single Grave Plot, a Single Ashes Plot, Scattering of Ashes, a Native Tree with a Plaque and the hire of an Event Shelter.
"A peaceful place to remember loved ones "